Zodiac Rose at Knudson Park Marseilles, IL Sponsored by Here and Again Inc 501c3 & WRWO 94.5 FM/LP
(CDT, UTC-05) (CDT, UTC-05)
Brian Neumann & Scott Lee at Knudson Park Marseilles, IL Sponsored by Here and Again Inc 501c3 & WRWO 94.5 FM/LP
January 5, 2017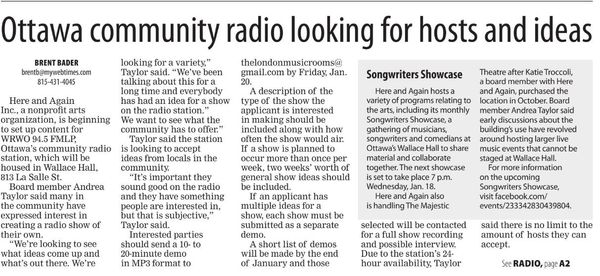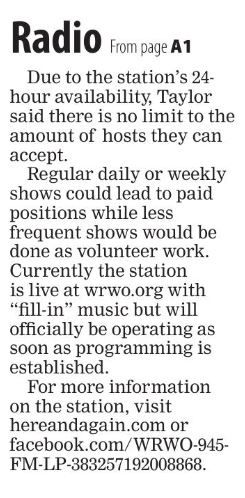 January 1, 2017


Looking for Radio Show Hosts 
Here and Again Inc have been working hard this year building WRWO 94.5 FMLP - Ottawa's Community Radio Station and are nearing completion. The radio station will be housed in Wallace Hall. There are many people who share our vision and who have expressed an interest in a radio show of their own. They are now at the point where they are selecting content for the radio station and are looking for individuals who would like to contribute ideas. All interested parties should send a short 10-20-minute demo to thelondonmusicrooms@gmail.com in MP3 format by the 20th of January 2017 and a description of the type of show that you are interested in making and the frequency of original material that you are considering contributing i.e. 5 days per week, once per month or occasionally. Regular shows more than once per week please include in writing two weeks worth of general show ideas. Also, if you have more than one idea for a show please submit a demo for each regular show idea. If you need technical help you can e-mail the address above. A short list of demos will be made by the end of January and they will contact those individuals for a full show recording and possible interview. Any questions please send a face book message or email.
Oct 14, 2014The FCC License has been approved
for a Community Radio Station for Ottawa IL
Official Mailing Address: Audio Division Media Bureau Permit File Number: Call Sign: Facility ID: This permit expires 3:00 a.m. local time, 18 months after the grant date specified above. Grant Date: October 14, 2014 Subject to the provisions of the Communications Act of 1934, as amended, subsequent acts and treaties, and all regulations heretofore or hereafter made by this Commission, and further subject to the conditions set forth in this permit, the permittee is hereby authorized to construct the radio transmitting apparatus herein described. Installation and adjustment of equipment not specifically set forth herein shall be made only in accordance with representations contained in the permittee's application for construction permit except for such modifications as are presently permitted, without application, by the Commission's Rules. See Section 73.875. Equipment and program tests shall be conducted only pursuant to Sections 73.1610 and 73.1620 of the Commission's Rules. IL61350 IL-OTTAWAStation Location: Frequency (MHz): 94.5 Channel: 233 Name of Permittee: HERE AND AGAIN Class: LP100 Hours of Operation: Unlimited United States of America FEDERAL COMMUNICATIONS COMMISSION LOW POWER FM BROADCAST STATION CONSTRUCTION PERMIT FCC Form 351A October 21, 1985 Page 1 of 2 NEW Callsign: Permit No.: BNPL-20131025AAL Special operating conditions or restrictions: 1 The permittee/licensee in coordination with other users of the site must reduce power or cease operation as necessary to protect persons having access to the site, tower or antenna from radiofrequency electromagnetic fields in excess of FCC guidelines. Transmitter: Type Certified. See Sections 73.1660, 73.1665 and 73.1670 of the Commission's Rules. Antenna type: Non-Directional Transmitter output power: As required to operate within authorized range of effective radiated power. Antenna Coordinates: deg min 53 sec 4120North Latitude: West Longitude: 50 min 28 sec 88 deg Maximum Effective radiated power in the Horizontal Plane (watts): Minimum Effective radiated power in the Horizontal Plane (watts): 12 159 -22 Height of radiation center above ground (Meters): Height of radiation center above mean sea level (Meters): Height of radiation center above average terrain (Meters): Overall height of antenna structure above ground: 13 Meters Obstruction marking and lighting specifications for antenna structure: It is to be expressly understood that the issuance of these specifications is in no way to be considered as precluding additional or modified marking or lighting as may hereafter be required under the provisions of Section 303(q) of the Communications Act of 1934, as amended. None Required Antenna structure registration number: Not Required 100 50 *** END OF AUTHORIZATION *** FCC Form 351A
DONATE BY MAIL:
Send your check payable to:
Here and Again Inc., 827 Columbus St., Suite 2C,  Ottawa, IL 61350
Here and Again Inc. is a 501(c)(3) non-profit organization.
When making a donation send in pay pal as a gift then no fees will apply.